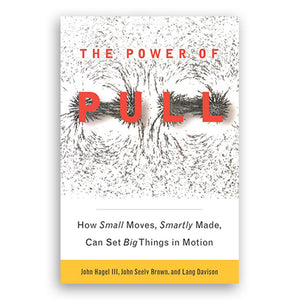 Institute for the Future Store
The Power of Pull
Regular price
$17.99
$0.00
How Small Moves, Smartly Made, Can Set Big Things in Motion
By John Hagel lll, John Seely Brown, and Lang Davison
In a radical break with the past, information now flows like water, and we must learn how to tap into its stream. Individuals and companies can no longer rely on the stocks of knowledge that they've carefully built up and stored away. Information now flows like water, and we must learn how to tap into the stream. But many of us remain stuck in old practices—practices that could undermine us as we search for success and meaning.
In this revolutionary book, three doyens of the Internet age, whose path-breaking work has made headlines around the world, reveal the adjustments we must make if we take these changes seriously. In a world of increasing risk and opportunity, we must understand the importance of pull. Understood and used properly, the power of pull can draw out the best in people and institutions by connecting them in ways that increase understanding and effectiveness. Pull can turn uncertainty into opportunity, and enable small moves to achieve outsized impact.
Drawing on pioneering research, The Power of Pull shows how to apply its principles to unlock the hidden potential of individuals and organizations, and how to use it as a force for social change and the development of creative talent.
The authors explore how to use the power of pull to:
Access new sources of information
Attract likeminded individuals from around the world
Shape serendipity to increase the likelihood of positive chance encounters
Form creation spaces to drive you and your colleagues to new heights
Transform your organization to adapt to the flow of knowledge
The Power of Pull is essential reading for entrepreneurs, managers, and anybody interested in understanding and harnessing the shifting forces of our networked world.
---