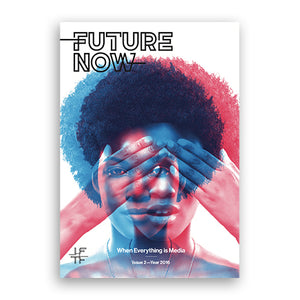 Institute for the Future Store
Future Now Magazine - When Everything is Media
Regular price
$6.00
$0.00
When Everything is Media
Issue 2 - Year 2016
In this second volume of Future Now, we explore the future of communications. In our research process, we traced historical technology shifts through the present and focused on the question, "what is beyond social media?"
Our journey started with an expert workshop in Silicon Valley, where we engaged some of the area's most creative and insightful thinkers to help us identify a set of foundational technologies shaping the next decade of communications. We then went to Copenhagen, where we convened a broad set of experts, speculative designers, and future thinkers to map out how people would use these technologies to fulfill their long-standing needs, desires, and intentions. Next, we traveled to New York City and met with another set of experts, including professionals in media and advertising, artists and students, and civic technology innovators and activists, to synthesize different possibilities into coherent stories about the future of communication.
It was through these conversations that we were able to uncover the emerging world of ambient communications, and began to identify the many new layers of complexity that will require us to rethink what's possible and reinvent what's practical in this rapidly approaching future. This publication reflects the conversations and insights we've had over 2016 about the future of technology and communications.
Think of Future Now as a book of provocations; it reflects the curiosity and diversity of futures thinking across IFTF and its network of collaborators. It contains expert interviews, profiles and analyses of what today's technologies tell us about the next decade, as well as comics and science fiction stories that help us imagine what 2026 (and beyond) might look and feel like. You may find some of these provocations challenging, scary, or even ridiculous. The point is not to persuade you to agree with any particular forecast or point of view, but to provoke you to engage in more conversations about the future, and to consider new possibilities.
---