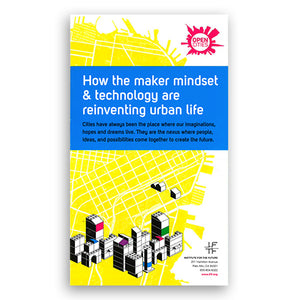 Institute for the Future Store
Open Cities: How the maker mindset & technology are reinventing urban life (Toolkit)
Regular price
$25.00
$0.00
Cities have always been the place where our imaginations, hopes and dreams live ... they are the nexus where people, ideas, and possibilities come together to create the future.

Map:
The Open Cities map is a tool to help you cultivate a maker mindset as you participate in the reinvention of the city as an open city. Use it to anticipate future challenges, leverage technology catalysts, zoom in on zones of innovation, and make your city—or any city—a better place for everyone to work, play, and make the future.

Card set:
This card set expands on the seven visions of open cities cited in the map and explores how different strategies of openness can be applied to discrete urban challenges. Leveraged in combination, the strategies can generate new innovations and offer tools to remake your own city.
Publication Date: Fall 2014
---