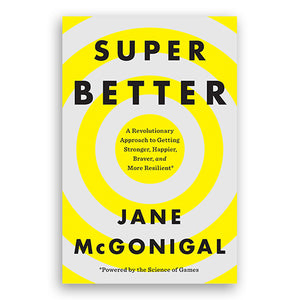 Institute for the Future Store
SUPERBETTER
Regular price
$19.78
$0.00
A Revolutionary Approach to Getting Stronger, Happier, Braver and More Resilient
By Jane McGonigal
An innovative guide to living gamefully, based on the program that has already helped nearly half a million people achieve remarkable personal growth

In 2009, internationally renowned game designer Jane McGonigal suffered a severe concussion. Unable to think clearly or work or even get out of bed, she became anxious and depressed, even suicidal. But rather than let herself sink further, she decided to get better by doing what she does best: she turned her recovery process into a resilience-building game. What started as a simple motivational exercise quickly became a set of rules for "post-traumatic growth" that she shared on her blog. These rules led to a digital game and a major research study with the National Institutes of Health. Today nearly half a million people have played SuperBetter to get stronger, happier, and healthier.

But the life-changing ideas behind SuperBetter are much bigger than just one game.
---