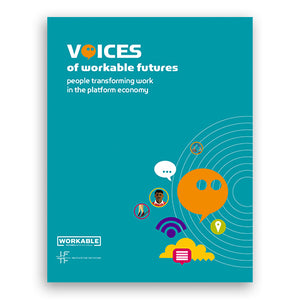 Institute for the Future Store
Voices of Workable Futures (Report)
Regular price
$10.00
$0.00
Who's the Worker of the Future?
Meet 7 new worker archetypes transforming the platform economy
While we hear about Uber and Airbnb in the news almost on a daily basis, the on-demand labor economy continues to disrupt sectors as diverse as financial services and legal analysis. Millions of people are already making their living "on platforms"—in the process of reinventing the rules of work for all of us.Last fall, we set out to capture the voices of these first-generation platform workers across the country—to find out what motivates them, what challenges they face, and what new building blocks of work they're stacking up for the future.The result is a new study, Voices of Workable Futures: People Transforming Work in the Platform Economy, which takes us into the daily lives of people who are redefining our concepts of jobs using on-demand platforms and mobile job matching apps. 

Publication Date: September 2016
---